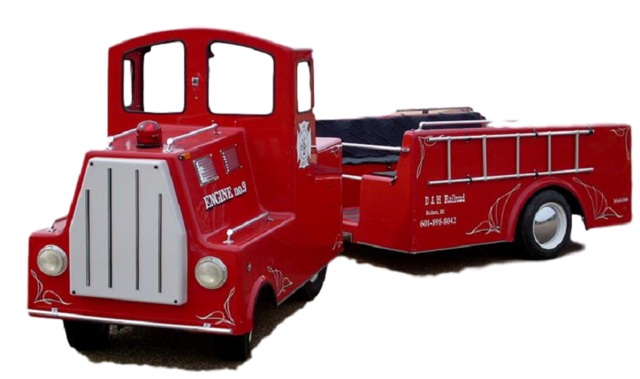 Trackless Firetruck
The trackless fire engine is a unique way to transport guests at your event and it includes a siren and flashing lights for a realistic ride. Children and adults will enjoy this trackless ride for many hours, so make sure to reserve enough time for all of your guests to experience multiple rides with magnificent fun!
Our firetruck travels just about anywhere and can be ridden on any flat surface; grass, asphalt or pavement. What does this mean for your passengers? Well, for starters, it means your attendees can go practically everywhere and have an amazing adventure during their journey.

This is a fun ride for everyone from young children to adults young at heart. Trackless Firetruck is an especially enjoyable ride as it strolls aroung the perimeter of your event location, with sirens blaring and letting the passengers wave to friends and family as they pass on by.

Everyone is going to love this popular attraction. If you choose to sell tickets for each ride, this will be a profitable addition to any
carnival,
festival
, or fair.

This Trackless Firetruck has a one-hour minimum reservation time, and it rents for $250 for the first hour. After the 1st hour of rental, it is only $125 per additional hour.