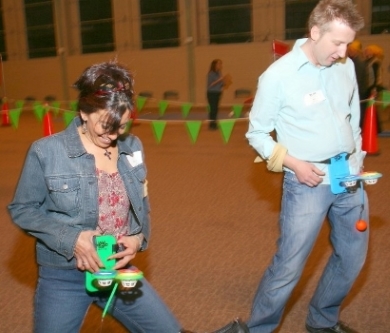 O'Brien Productions is an expert at team building activities and Wacky Olympics is our favorite! This lighthearted wacky Olympic game will allow your group to bond with their team.

How it works:
Our team leader will round everyone up and divide them into a team.
Each team will rally together and be given a spirit box to don their team color.
They will then select a team captain.
All rules and team points will be explained to the guest.
The MC will have a large score board so everyone can keep up with their standing.

Each game will be explained, participated and scored before moving on to next game.

We play a variety of fast pace games that are both physical and mentally challenging. Not everyone is required to participate in each game as long as the teams are equal. i.e. -The MC may announce to the group "select four of your teammates to participate in this game". This allows for a variety of personalities and physical limits!
After the games, we finish it up with an awards ceremony.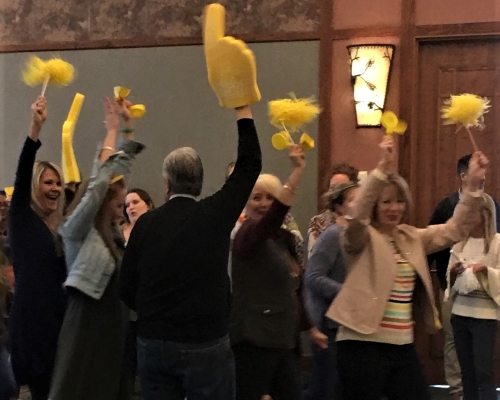 Request an Event Quote Today!

O'Brien Productions has been offering team building activities to our clients for over 3 decades. From escape rooms to treasure hunts and cocktail making to outdoor survival training, there's so much to choose from these days, and O'Brien Productions can do it all! For your event, we will provide the experienced and knowledgeable staff to not only help design your event with you, but we also fully setup and take down the props and decor after your Wacky Olympics Game and Awards are complete. And, we will have an event supervisor to stay on site at the event to ensure that everything runs smoothly.

O'Brien Productions' staff of professional event designers will be happy to meet with you to develop and lay out a plan to create an amazing event for your company. We can manage every detail, so call us at 770-422-7200 or click the link below for a quote request, and let us show you how we can help plan a team building activity for your corporation.


Request A Quote