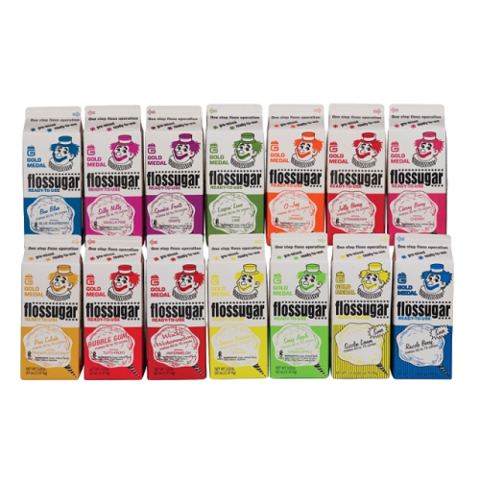 Cotton Candy Flossugar
Actual Size: 3 1/4 lbs. per carton




Flossugar Concession Supplies
O'Brien Productions
770-422-7200
www.obrienproductions.com
Click "Add to Cart" to select from our list of flavors.
Cotton Candy Flossugar - Use Floss Sugar for your
Cotton Candy Machine rental and change colors each time you add sugar to the spinner head. Gold Medal Flossugar is made from a special sugar – not too fine, not too coarse. Flossugar is packed in sealed 3 1/4 lb. milk cartons. Open the box and pour into the spinner head–no messy mixing or unsanitary sugar buckets.
We often have an inventory of these Flavors Boo-Blue (raspberry), Silly Nilly (pink vanilla), Sizzlin' Lemon (sour lemon), O-Jay (orange), Jolly Berry (strawberry), Cherry Berry (cherry), and Wacky Watermelon. Pink Silly Nilly is the standard flavor with the taste and smell everyone recognizes and enjoys the most!