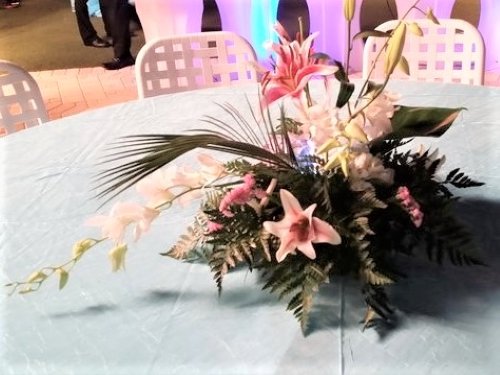 Beach Theme Flower Centerpiece




Wishlist

Please call to Add to Quote

Centerpieces are the focal pieces where you tie in your entire event together on your table. Whether you like high centerpieces, low centerpieces, or a mixture of both, we can design your vision and bring it to life.
There are hundreds of events that we can think of that are special enough for floral arrangements.
A gala, wedding and even a theme party are just a few occasions that deserve to be celebrated with flowers and our beach themed floral arrangement with tropical flowers and greenery are the perfect addition to your Beach Party!
We understand how important it is for an event to be successful and stress-free for you. O'Brien Production's professional staff is here to serve you and provide the best event in party production. With our vast knowledge, we can not only provide you with gorgeous flowers, we can create the event you and your team desire. With 30 plus years of party planning experience, we have over 10,ooo successful events under our belts. With this experience comes knowledge and attention to the details and our event designers bring those to every party!
O'Brien Productions can handle all the details – you and your team just enjoy yourselves!
Call us to at
770-422-7200
and let us show you how our event design team can bring new and exciting ideas to create the best theme party for you.