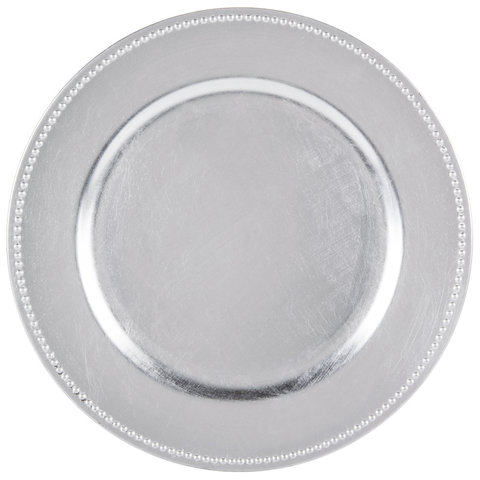 Silver Charger Plate with Beads / Ridges
Actual Size: Diameter 13"






Round Silver Chargers with Beads / Ridges
O'Brien Productions
770-422-7200
www.obrienproductions.com

Add an interesting change to your dining area with this Silver Charger Plate. Boasting a rustic, upscale appearance, this charger plate is great for enhancing food presentations at your catered event, wedding or reception.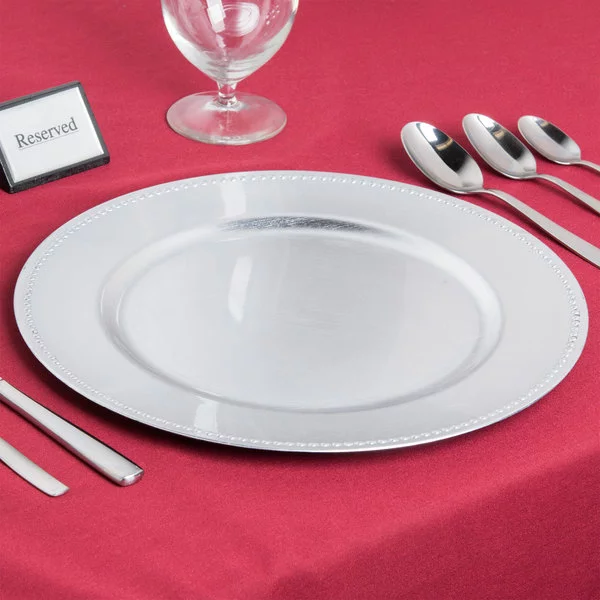 Its ample 13" diameter provides plenty of room for serving soups, salads, and entrees. It will also help prevent spills and messes by catching any excess food and protect your table while your guests enjoy their meal. Easily place this charger plate under dinner plates, platters, and bowls for a professional, finished look.
Look through our large selection of Linens like our Napkins, Table Runners, Tablecloths, & Chair Covers. For a different look, our Spandex Linens are the perfect rental for your Celebration, Corporate Fundraiser, Gala, Wedding, & more.
When is it appropriate to take the charger plate off the table during a meal service?
Deciding when to clear your table of all charger plates depends on the type of venue you have. Some restaurants have charger plates solely for decoration, and they are removed before guests are served any food whatsoever. Traditionally, charger plates are used for presenting soups, salads or appetizers and are removed before the main entree dish is served. However, many restaurants today leave charger plates at the table setting throughout the entire meal. Rule of thumb is that charger plates should always be removed from guests' place settings before dessert is served!