Under the Sea Theme Party
Want to escape the concrete jungle and enjoy some sea life? With O'Brien Production's Atlantis - Under the Sea experience, you can feel like a creature from under the sea. Walk inside the sunken city and immerse yourself into the bountiful splendor that is Atlantis. Whether it's the statuesque decor, the sea life sculptures, or the real-life mermaid, you and your guests will be able to relax under the sea.
Setting & Decor:
As guests walk in, they will see colorful blue and green tablecloths, bottom of the sea treasures like large pieces of broken sculptures, human sculptures in white togas, gloves, and white face paint, and creative centerpieces that resemble sea urchins. We even have a full-length cloth backdrop with an entire oceanic scene for the final immersive touch. O'Brien Productions will handle all the details so that you and your guests can enjoy the party.
Around the Bar:
We can arrange for a drink station to be set up for the event, if needed. If the venue already has one, we can decorate the existing bar with our decor, like a coral reef and sea horse sculpture. O'Brien Productions can even supply your bar area with margarita machines for flavored margaritas, or other frozen drinks. You can also make your own signature cocktail for the special event.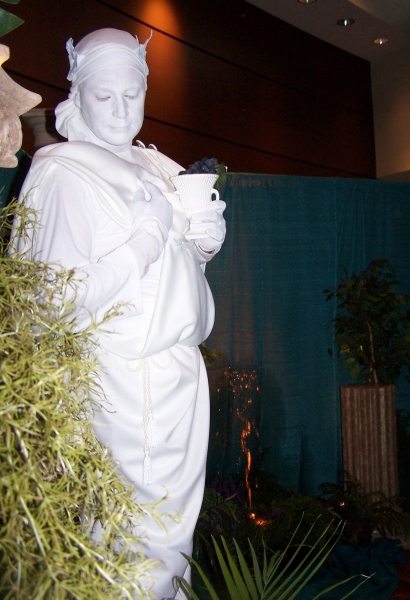 Entertainment Options:
A Disc Jockey can be supplied to play today's top hits and a dance floor made so your guests don't get sea legs. The DJ will keep the party moving along and give any party announcements, as well as inviting everyone to participate. O'Brien Productions can provide your event with Aerial Dancers that will perform from strips of fabric on the ceiling. They will use the fabric to twist, turn, and dance in the air. This is guaranteed to 'WOW' your guests and make them feel like they are in an underwater paradise.

Catering:
We have a variety of options that will work for all budgets and once the food and drink selection are chosen, O'Brien Productions will take care of the rest and make sure that your underwater feast flows smoothly.

Photography Area:
We can provide a photo booth for the event so guests can capture the moment. You can create a classic 4 photo print or use a digital photo booth which creates larger prints for you and your guests. If you prefer, we can create a custom one-of-a-kind selfie-station with gorgeous silk drapes, on-theme-props, and even deluxe balloon arrangements. This photo op provides guests with an area where they can capture their own memories. We are able to also provide on-theme props for your selfie-station, which will look amazing at your Under the Sea - Atlantis Theme Party.

Staff:
O'Brien Productions will provide all staff to assist in the designing process, aid in setup and tear down of all decor, coordinate all professional entertainment, and an event supervisor will be on-site to keep things running smoothly. We have all professional staff as we do not hire volunteers. O'Brien Productions will do all the work, so you don't have to. You and your guests can simply show up and enjoy the lost city of Atlantis.

Insurance:
O'Brien Productions carries a million-dollar liability insurance policy and we will be more than happy to provide a copy of the certificate of insurance, upon request. We will take care of everything, so you can focus on enjoying your event.
Request an Event Quote Today!

Choosing to have our Atlantis-Under the Sea Theme Party will be a unique and individualized way to celebrate any type of corporate event, or company party. With an estimated budget and a wish-list for your event, our team can put together an amazing undersea city with your budget in mind.

O'Brien Productions and our professional event designers will be happy to meet with you to develop a plan to create the perfect event for you and your guests. With over 30 years of experience in the event party planning business, we have produced over 10,000 events for clients of all sizes. Nothing is too big or too small! We can manage every detail and we can work hard so you won't have to.

Call us at 770-422-7200 today or click the link to complete our online quote and let us show you how we can create an unforgettable Atlantis - Under the Sea Theme Party!
Request A Quote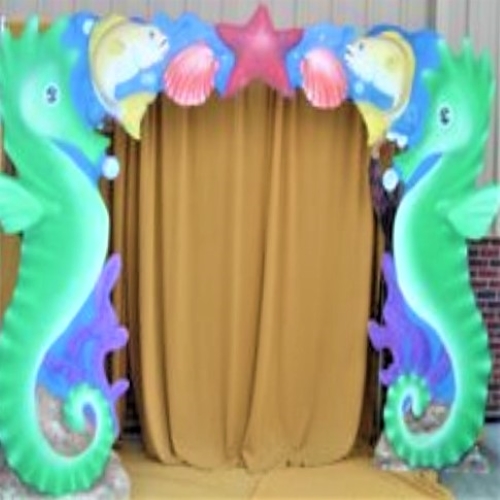 Theme Party Under the Sea / Atlantis