It's a bird! NO, it's a plane, NO...It's O'Brien Productions to the rescue! Allow your guests to live out their childhood fantasy of being a superhero from a comic book with O'Brien Productions Superheroes Party. Bring out the child in all of us, but with a refined, and polished style.

From the comic book decor to the real-life superhero greeting your guests as they enter the venue, they will feel like they have been transported to the gritty streets of a fictional city. Let O'Brien Productions plan an amazing Superhero event for you!
Setting & Decor:
You guests will walk into the venue and be immersed into a fantastic superhero world. The space will have colorful tablecloths, chair covers, napkins, and comic book backdrops of cityscapes that will make your guests feel like they are in the middle of a graphic novel. We can add items with your company logo on them as well as a giveaway. We can even have a specific item with your logo for the giveaway, upon request.

Around the Bar:
We can provide a drink station if there isn't one readily available, or accent an existing bar with decor that keeps with your superhero theme. O'Brien Productions can even supply your bar with margarita machines for frozen drinks. You can create a signature cocktail for your event and we can provide specialty drinkware for you and your guests to keep.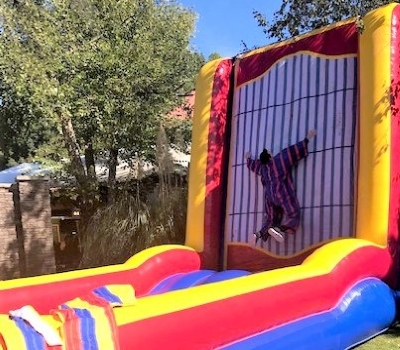 Catering:
We have a large variety of catering options that will work for any budget. Once the food and drink choices are selected and finalized, O'Brien Productions will coordinate all the details so your meal is ready for you and your guests.

Entertainment Options:
We can provide a Disc Jockey for your event that will play today's top hits and popular dance music to keep the party going. The DJ will invite the guests to join in, and also make any necessary party announcements. Professional Dancers can be provided for your entertainment, and we can even arrange for Aerial Dancers to perform from strips of fabric that hang from the ceiling. It is a great way to give your guests a fun, yet elegant, experience and make the dancers look like graceful superheroes flying through the sky. We have a large selection of inflatables and interactive games that would be a perfect addition to this themed party.

Photography Area:
Having a photo booth at your event is a great way to allow your guests to commemorate the memories, and take a piece of the party home with them. You can create a classic 4 photo print or use a digital photo booth which creates larger prints for you and your guests. If you prefer, we can create a custom selfie-station with drapes, balloons, and on-theme-props. This photo op provides guests with an area where they can capture their own memories. We are able to also provide on-theme props such as BOOM, BAM, KaPOW & KRUNCH signs, capes, masks, and other superhero items.

Staff:
Our professional staff will assist you in designing your event, provide the professional entertainment, and completely set up and tear down all the decorations. We will even have an event supervisor on-site to make sure that every aspect of your event is handled properly. We have an all professional staff, so we do not hire volunteers. Our goal is to assist you in every way, and take the hard work out of planning your event.



Request an Event Quote Today!

Choosing a comic book Superhero Theme Party is a fantastic way to celebrate a special occasion, a corporate milestone, or have a unique company event. Once you have a wish list for your event and a budget in mind, O'Brien Productions will handle all the details and make your party amazing.

O'Brien Productions and our professional event designers will be happy to meet with you to develop and lay out a plan to create the perfect event for you all everyone in attendance at your themed celebration. With over 30 years' of experience in the event party planning business, we have produced over 10,000 events for clients of all sizes. We can manage every detail for you and take the work out of your next event.

Call us today at 770-422-7200 or click the blue link below to request a quote from one of our event designers and let O'Brien Productions show you how we are able to create a one-of-a-kind memorable Superhero Theme Party!


Request A Quote