Ahoy me hearties! You're invited to enjoy an evening filled with everything Pirate. Peter Pan, The Pirates of the Caribbean, Jake and the Neverland Pirates...they all have one thing in common - loads of great pirate fun! In each of our pirate parties, your party guests are swept away into the days of old of nautical nonsense and buried treasure. So, grab an eye patch, a sword to protect your treasure, and your well-behaved parrot, and be prepared to charter a course and set sail. We can produce the ultimate Pirate Themed Party with music, entertainment, props, decorations, staging, spirits, catering, sound, lighting, parrots and other exotic animals. We specialize in pirate parties for adults and children.
Setting & Decor:
Always start your decorations outside so there is something to welcome your guests as they enter through a elaborate Entrance. We can create a plank for your guests to walk on and off the "ship". The venue will be filled with black, white, and red linens with just a touch of gold accents. Each table will be adorned with treasure chest centerpieces and treasure maps. If you would like a dessert table, we will hang skeletons and Skull and Bones Flags, which is a pirate essential, and sure to scare your mateys.

Around the Bar:
We can arrange for a drink station to be set up for the event, if needed. If the venue already has one, we can decorate the existing bar with our Caribbean decor. O'Brien Productions can even supply your bar area your own signature cocktail. Why not create a cocktail, like a Tropical Treasure, for both children and adults and give your guests a taste of the Caribbean with a Pineapple, Coconut, and Banana Smoothie? Shiver me timbers', this delicious beverage is a great fit for pirate party ideas and it could be turned into a cocktail for the adults by adding a splash of rum! Make a batch and serve it in punch bowl.
Entertainment Options:
Is that a real Parrot? You bet it is. O'Brien Productions has entertainers for hire to perform as pirate characters and to roam around the venue dressed as pirates. For added authenticity, we can provide a real parrot! Yes, you really can rent animals for the evening. A DJ can be supplied to play today's top hits and a dance floor made so your guests don't get sea legs. The DJ will keep the party moving along and give any party announcements, as well as inviting everyone to participate.

Catering:
We have a variety of options that will work for all budgets and once the food and drink selection are chosen, O'Brien Productions will take care of the rest and make sure that your underwater feast flows smoothly.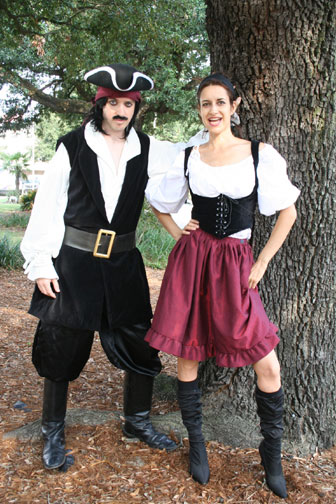 Photography Area:
We can provide a photo booth for the event so guests can capture the moment. You can create a classic 4 photo print or use a digital photo booth which creates larger prints for you and your guests. Remember, that if you've asked everyone to come in costume, there might be one or two that don't, so we can create a prop table, filled with eye patches, inflatable swords, hook hands, beards, pirate hats and bandannas, so that they don't feel left out. The pirate themed items can also be used as photo props for an Instagram worthy selfie-station to include a Caribbean backdrop the photography area.

Staff:
O'Brien Productions will provide all staff to assist in the designing process, aid in setup and tear down of all decor, coordinate all professional entertainment, and an event supervisor will be on-site to keep things running smoothly. O'Brien Productions will do all the work, so you donâ™t have to.

Insurance:
O'Brien Productions carries a liability insurance policy and we will be more than happy to provide a copy of the certificate of insurance, upon request. We will take care of everything, so you can focus on enjoying your event.

Choosing to have our Pirate Theme Party will be a unique and individualized way to celebrate any type of event or party. With an estimated budget and a wish-list for your event, our team can put together an amazing event with your budget in mind.

X marks the spot and this a Pirate Theme Party is not just for kids and not just for birthdays. Whether you're planning a corporate gathering, a family reunion, or anything in between, O'Brien Productions has a huge treasure chest filled with Pirate paraphernalia. And don't forget to tell everyone to come in costume - as either a pirate, mermaid, or princess.
Request an Event Quote Today!

O'Brien Productions and our professional event designers will be happy to meet with you to develop a plan to create the perfect Pirate event for you and your guests. With over 30 years of experience in the event party planning business, we have produced over 10,000 events for clients of all sizes. Nothing is too big or too small! We can manage every detail and we can work hard so you won't have to. Call us at 770-422-7200 today or click the link below to request a quick quote and let us show you how we can create an unforgettable Pirate Theme Party!
Request A Quote