With traditional German food, music, beer steins, and dancing, O'Brien Productions can bring an Oktoberfest celebration to life for you and your guests. Whether you'd like to have a large event at a specific location or prefer to host this party at your own property, our professional and experienced event designers will create the feel of an authentic German Oktoberfest Theme Party for everyone to enjoy.
Entrance:
Checkered fabrics, black lampposts, and Biergarten signage be set throughout the event and at the entrance to create the warmth of a good ole Bavarian time! We have a large selection of Oktoberfest banners, flags, photo fronts, and more, to decorate the entrance of your event as well as to be placed around your venue.

Setting & Decor:
We will provide farm style tables accented with blue and white checked table runners. Flowers and beer steins filled with pretzel sticks will be on every table and highboy. Bamboo chairs will be placed at our farm style tables, making this decor feel like an authentic day in a German garden, and whiskey barrel cocktail tables with bar stools will help to complete the look. The food tables will be set with blue and white checked table cloths, offering a menu of Oktoberfest favorites!
Entertainment Options:
Master of ceremonies/Disc Jockey - this person will be the focal point of your group and the music and sound will keep your party going. The DJ will make any announcements - whatever your group would prefer. A fun touch to the event is our Strolling Table. This interactive piece of art is a great welcoming touch to an event. A caterer can place hors d'oeuvres on these tables. Our Strolling Table also serves not only as decor and a table, but your guests will enjoy having their picture taken next to her. The photo is representative of what we can provide and our costume may be a bit different but still holds true to the theme. Dressed in their colorful outfits, the German band will provide fun, upbeat music, and encourage the guests to sing a long! And, expect to hear (and join in) to the chicken dance!

Let O'Brien Productions show you what it's like to attend a traditional German Oktoberfest. From our Pretzel concessions to a full catered meal, we are able to provide as little or as much as you would like for your event. Our experienced event designers can help you create a great event to entertain you and your guests! Our professional staff will make it a party to remember. O'Brien Productions will handle all the details, big and small, and take the work off your shoulders, so you can just relax and enjoy the evening - worry free.
Have you ever considered an Oktoberfest Themed Casino Party?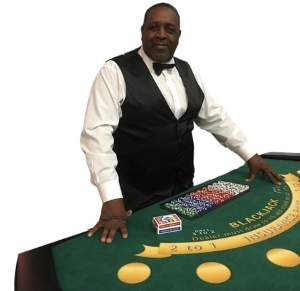 The Biergarten Casino Experience:
Your guest will be greeted at the door and given $25,000 in "O'Brien Bucks" to play at any of the tables. Your guest may exchange their "cash" for chips at any game of their choice and may then play for three hours. As the gaming tables begin to close, guest exchange their "Winnings" for a raffle ticket. Then we will draw for a variety of prizes that you have provided. All of our casino equipment comes complete with black skirting and all required paraphernalia. We will provide professional croupiers consisting of dealers, cashiers, Pit Boss and supervisor. All casino personnel shall be attired in semi-formal uniforms composed of black pants or skirt and white tuxedo shirts, black satin bow ties. Of course, our croupiers are trained in the fine art of fun and entertainment. They will be happy to explain the techniques and mechanics of the fast - paced casino gaming.

Add poker tables like Craps, Roulette, Blackjack, Texas Hold 'Em, and more to your Oktoberfest event. We can include all the necessary fun money, chips, prizes, and accessories, as well as, a Pit Boss, Dealers, and Croupiers. Casino Gaming is usually based on 3 hours of play and 1/2 hour for cash-out. In addition to the vast array of poker tables that O'Brien Productions has in inventory, we also have slot machines, that are always a hit among every crowd. By adding a Beirgarten Casino to your Oktoberfest Themed Party, it allows your guests to have fun with different activities. With over 10 different poker tables available, O'Brien Productions is sure to have everything needed for an exciting poker experience.
Request an Event Quote Today!

With over 30 years' experience in the event party planning business, O'Brien Productions has produced over 10,000 events for clients of all sizes. We can manage every detail for you and take the work out of your next theme party. Call us at 770-422-7200 or click the link below to request a quick quote and let us show you how we can elevate your event to make it a memorable event for everyone in attendance!
Request A Quote