You have been cordially invited to attend The Hogwarts School of Witchcraft and Wizardry Yule Ball. A tradition of the Triwizard Tournament, proceedings will be held within the Great Hall, where guest will be welcomed to a whimsical world of magic and mysticism. The Yule Ball is a coveted event by all, ushering in the holiday season a royal enchantment. It is not often Dumbledore opens his gates to muggles, and mandates for fun to be had by all of his welcomed guests.
Decor:
Festivities will primarily take place within The Great Hall, considered to be the heart of the Hogwarts student body. Guest will be ushered in and separated into one of the four distinguished houses of Hogwarts (Gryffindor, Hufflepuff, Ravenclaw, and Slytherin). No need to worry where you belong, your house will be decided by the sorting hat. Feel the magic in the air as you dine beneath the intimate spectacle of levitating candles atop the regality of pristine white linens. Backdrops of snowy evergreens and wintery landscaped drape the walls in a loving embrace of holiday cheer.
The Four Houses:
After dining, roam the halls of the school and visit the distinctly decorated four houses of Hogwarts. Peruse through the elegantly draped chambers, littered with iconic treasures of the Wizarding World, like Harry Potter's legendary broom, the Nimbus 2000, or his trusted owl, Hedwig!

Festivities:
Have your photo taken with Master of the Dark Arts Severus Snape, Harry Potter's trusted house elf Dobby, or even Headmaster of Hogwarts itself: Dumbledore! Step onto platform 9 & 3/4 to ride aboard the train to Hogwarts!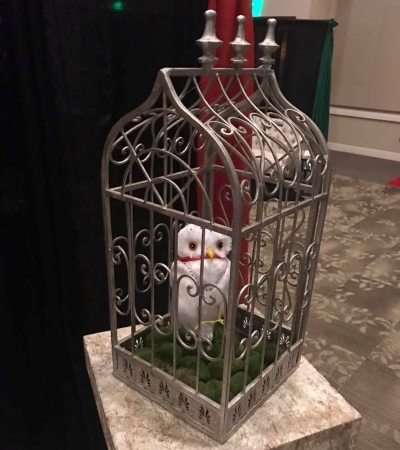 Request an Event Quote Today!

O'Brien Production's professional staff is here to serve you and give you the best experience for your event. We understand how important it is for an event to be successful, and ultimately, valuable and stress-free for you. Call us at 770-422-7200 or click the link below to request a quote and let us show you how we can elevate your themed event.



Request A Quote