Alice in Wonderland Theme Party
O'Brien Productions can turn this childhood novel into a beautiful, elegant evening at the Mad Hatters Tea Party!. Join us down the rabbit hole and discover a magical party in Wonderland. Alice in Wonderland is still delighting adults and children with its nonsensical approach and inspirational characters.
Image as you enter the Queen's garden playing flamingo croquet or chess on our oversize 27" chess game. Your guest will have the perfect photo opportunity to sit in the Queen's Throne and be surrounded by her guards.

The Mushroom Forest will be the host of the Cheshire Cat. Over sized facades and lighted tress with butterflies will be glowing with the help of black lights and our large selection of revolving gobo lights.

The Mad Hatter's tea party will be your dining area. Tables will be set with colorful tablecloths and seat covers and the centerpieces are perfectly designed to have a topsy-turvy elegance. We will place the centerpieces on a battery-operated rotating stand to add to the WOW factor.
Dream the impossible and see it brought to life as our expert party professionals, at O'Brien Productions, work to recreate the magical worlds found only at the bottom of a special rabbit hole or seen through an enchanted looking glass.

Imagine your guests taking tea with Alice. Picture the sight as they look up in awe to find a smiling Cheshire Cat serving tea, the Queen of Hearts protecting her tarts as a stilt walking Alice is greeting with them a smile.
Request an Event Quote Today!

O'Brien Productions is ready when you are, with great resources, ideas, and the experience you need for a great event. Whether it's an Employee Appreciation, Ground Breakings & Grand Openings, Health & Wellness Party, Fairs, Retirement & Awards Ceremonies, Evacuation Drills, Prom, or Holiday Events...we do it all & we do it better! Call O'Brien Productions at 770-422-7200 or click the link below to Request a Quote today!
Request A Quote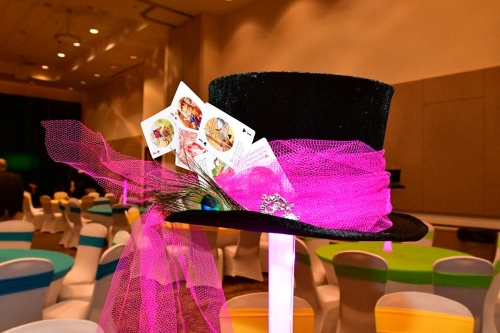 Theme Party Alice in Wonderland