Having a special event and want a unique theme to set your event apart from the rest? An Andrew Sisters boogie-woogie theme party may be just the thing! The classic trio made their mark in the music scene, and their style is the perfect theme for a unique way to celebrate any special occasion. Whether you are having a corporate event, company party, prom, or a personal celebration, the Andrew Sisters' party will give your guests a night to remember.
Setting & Decor: Your guests will enter the venue and be immersed in the boogie-woogie era with formal tablecloths, napkins, chair covers and even a backdrop that encompasses the sisters signature style. We can put a logo onto certain items, and even have a special item for a giveaway. If you have a specific item in mind, let us know.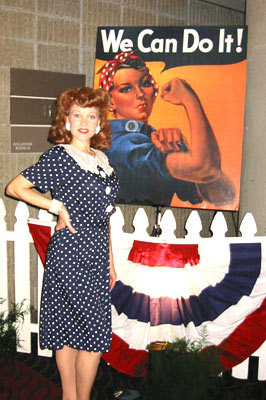 Around the Bar: We will provide a drink station if there isn't one already available, or we will accent an existing bar with Uncle Sam and World War II posters and decor. We will provide a bartender to serve drinks to you and your guests, and we can help you to create a signature drink for the event. We can also provide specialty drinkware that guests can take home with them.

Entertainment Options: We can provide a DJ that will play modern dance music and today's top hits. He will invite guests to participate in the festivities and give any party announcements. A Trio Band can be present to play Andrew Sisters' greatest hits like Boogie Woogie and Bugle Boy, and get guests into the spirit. Professional Dancers can be provided to perform traditional swing dances as entertainment. They will also teach guests a few steps so that they can join in on the fun.

Catering: We have a large variety of different meal options that will work with any budget. We can arrange for finger foods and horderves, or a full meal. Once food and drink choices have been finalized, we will handle all the details so that your meal will be ready for you and your guests.

Photography Area: Having a photo booth is a great way to let your guests commemorate the night and take a piece of the Andrew Sisters party with them. O'Brien Productions can provide a backdrop for the booth that fits with the era for your guests to pose in front of. You can create a classic 4 photo print or use a digital photo booth which creates larger prints for you and your guests.

Staff: O'Brien Productions will not only provide the staff for your event, but will provide the professional entertainment, and assist with the setup and teardown of the decorations. We will even have an event supervisor on-site to ensure that all aspects of the event run smoothly. We have all professional staff as we do not hire volunteers. We will handle all the details so you and your guests can simply enjoy the party.
Choosing a 1940's theme party for you next event is a fun way to celebrate any occasion. Whether you want to have a laid-back party, or a more extravagant event, this theme will work for you. O'Brien Productions will handle all the details to take the hard work out of event planning, so you can relax and enjoy the party.
Request an Event Quote Today!

O'Brien Productions and our professional event designers will be happy to meet with you to develop and lay out a plan to create the perfect event for you and your guests. With over 30 years of experience in the event party planning business, we have produced over 10,000 events for clients of all sizes. We can manage every detail for you and take the work out of your next event. Call us to at 770-422-7200 and let us show you how easy it is to organize a memorable Andrew Sisters event for your company!
Request A Quote