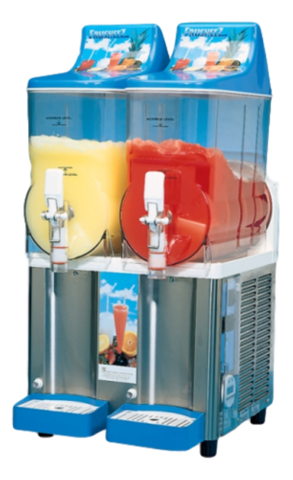 Frozen Drink Machine
Outlets: 110volt/20 amp circuit
Age Group: Adult




Frozen Drink Machine
O'Brien Productions
770-422-7200
www.obrienproductions.com
Blend and dispense your favorite iced beverages with our Frozen Drink Machine. Our large capacity drink mixer and freezer is a fun party rental that will allow you to serve the perfect blend and flavor of mixed drinks. This rental has two mixing containers so that you may serve a variety of blended ice beverages to your guests.
O'Brien Productions also offers a variety of flavors for your slushy iced style drink.
Some of these non-alcoholic frozen drink flavors are Traditional Margarita, Strawberry Daiquiri, Pina Colada, Lemonade, Blue Hawaii, & Orange.
Note: Iced drink freezing time is appx. 1 - 1.5 hours, it may take longer if alcohol is added to mixture.
You MUST use the mix we sell. No other mix allowed in machine.