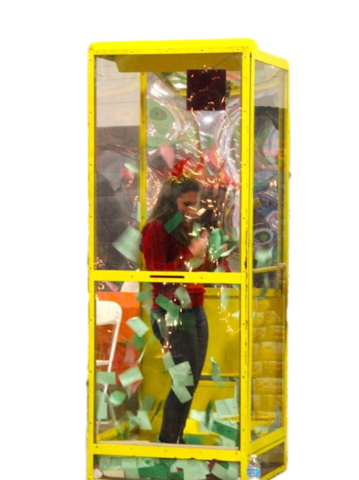 Cash Cube Money Grab Box
Actual Size: 87"H x 32"W x 42''D - 360 lbs.
Outlets: 120 AMP
Age Group: 8 years and older




Our Cash Cube Money Grab Box can be used to blow cash, paper money, vouchers, certificates, or any paper product that fits into your event strategy. Best of all, you have control over how much players can win in the Vault Money Booth. The cash cubes are perfect as traffic builders in trade show booths or for corporate incentives.
What type of events are ideal for this rental?
Casino Events
: A natural attraction for the gambler, the money grab box rental is a great addition to any casino night.
Corporate Events
: While cash cubes have long been a standard attractions at annual corporate events, more companies are finding them to be just the ticket to put a little excitement in their weekly and monthly sales meetings, as well. A chance to enter the cube is an excellent employee incentive to bring in new clients, push new product sales, or beat last month's sales figures.
Fundraisers
: Fundraising events are an excellent rental promotional source. So many groups are turning to fundraisers to generate dollars for special causes. Get your participants excited…when they are excited, your organization benefits from their enthusiasm.
Employee Appreciation
: Entice employees to be more productive with incentives from a Cash Cube Money Grab. Fill the money machine rental with money, rewards, incentives and/or time off coupons… the choice is yours. Create excitement in your workplace and reward excellence. While the Money Cube is at your company, invite employees and their families to a special company party. Invite kids and adults alike to take a chance at winning in the Vault Money Booth.